Latex is harvested from a liquid or coagulated rubber tree that is difficult to store and needs to be processed into dry or concentrated natural rubber varieties for long-term storage and easy transport. Ngoc Chau Factory introduces readers to the following overview of the rubber production process!
Introduction Natural Rubber Latex
The most popular types of natural rubber today include technical standard block rubber, smoked sheet rubber, concentrated rubber, and crepe rubber. This is the source of raw materials for rubber products processing technologies used in many industries and daily life, such as tires, car components, gloves, shoe soles, conveyor belts, belts, elastic threads, pillow mattresses, sports balls, etc., of which the tire industry (car tires) accounts for about 70% of the demand for natural rubber.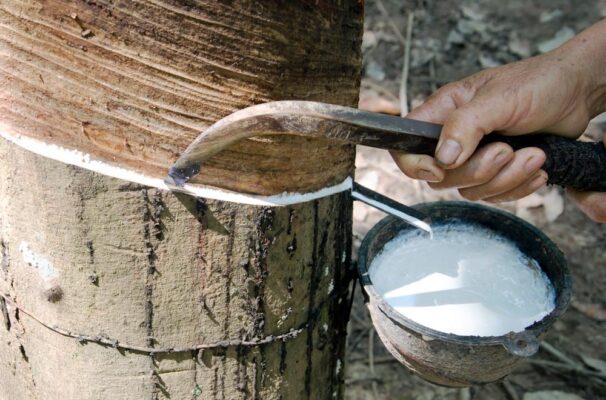 In order to improve competitiveness and sustainability compared to other rubber raw materials (synthetic rubber, rubber from some other trees), natural rubber types need to be processed through processing processes. According to national and international standards, there are technical characteristics to meet the requirements of increasingly diverse and high-quality rubber products.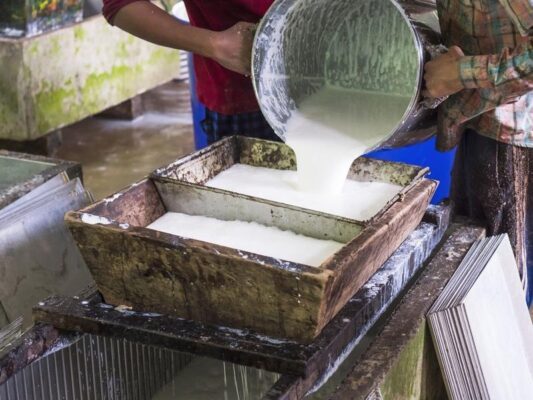 The rubber latex processing process needs to be managed and implemented according to the criteria of sustainability, cleaner production on the principle of reducing greenhouse gas emissions, saving resources, optimizing the use of raw materials, high performance and better process control, traceability, and quality that meets market and customer requirements.
Overview Of Rubber Latex Processing
Latex processing is a process that changes some of the physicochemical properties of raw rubber latex to convert freshwater latex or fresh frozen latex harvested from rubber trees into other types of natural rubber that can be stored for long periods of time as raw materials for the rubber product processing industry.
The types of natural rubber processed from latex popular in Vietnam today include: SVR 3L, SVR CV50, SVR CV60, RSS, Latex…
Types of latex processed from coagulated latex, cup latex, and rope latex include: SVR 10, SVR 20,… To meet the market's demand, natural rubber types are continuously improved in terms of physical and chemical properties. such as dirtiness, plasticity (P0, PRI), Mooney viscosity, tensile strength, volatile fatty acid index (VFA), etc.
The current quality of rubber in Vietnam is not uniform. The quality of rubber is often unstable in areas where smallholder production is interrupted and private factories buy raw materials from many places for processing. In recent years, Vietnam's rubber output has increased rapidly, but quality control measures have not been strict. Therefore, there is a need for an advanced technical process to guide processors toward sustainable production solutions and improve the quality of Vietnamese rubber.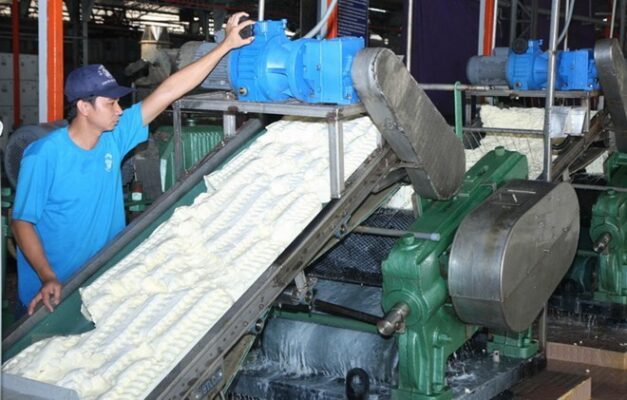 The process of processing rubber latex from orchards in Vietnam has two main groups of technologies:
 Processing latex into types, including the following forms:

Technical standard rubber in block form (grades SVR L, SVR 3L, SVR 5, SVR CV50, and SVR CV60).

Sheet forms such as RSS smoked sheet rubber (5 grades from 1 to 5), crepe rubber.

Liquid form, such as concentrated natural rubber latex (a by-product when producing concentrated latex is Skim Block in block form).
Processing coagulated latex (cup latex, cord latex) into blocks of standardized rubber with grades SVR 10, SVR 20, SVR 10CV, and SVR 20CV.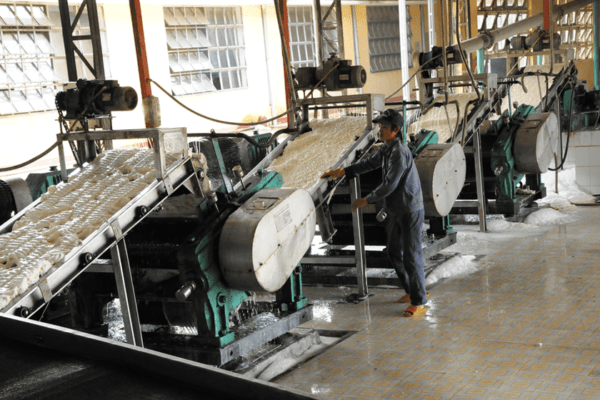 Follow Ngoc Chau for more information on rubber processing at the factory!
————————————————————————
NGOC CHAU –  NATURAL RUBBER FROM VIETNAM
Contact us:
📍Address: Lexington Building, No. 67 Mai Chi Tho Street, An Phu ward, Thu Duc City, Ho Chi Minh City 70000.
☎️Mob: 0084 902338498/ 0084 981736778
📞Tel: 0084 2822533337/38/39
📠Fax: 2822533337
✉️Email: info@ngocchausupplier.com 
🌐Website: https://ngocchausupplier.com/